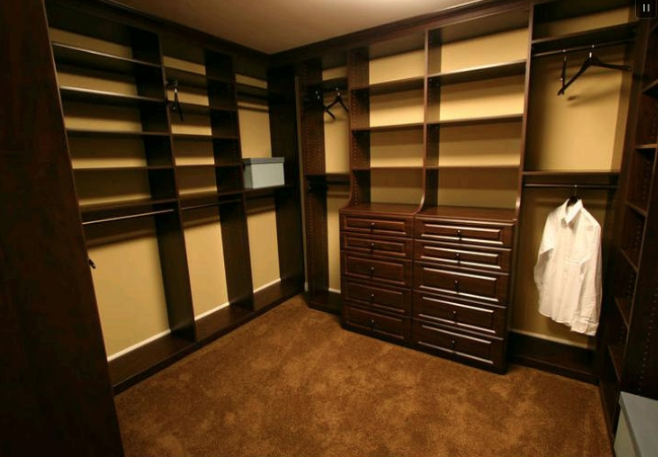 Want to increase your home value while also increasing usable space for your home? Consider a walk-in closet. Today's homeowners need a spacious place to store their clothing, accessories, and shoes. A walk-in closet provides all of this, plus a functional elegant space to get ready for your day. While you can start by measuring available space, closet rod height dimensions, and depth of your closet, bringing in a professional designer often is the best way to go.
Increase Home Value
Your walk-in closet will increase your home value. In fact, in some cases adding a closet can make a "bonus" room be considered a bedroom. Consult with a designer to see how to best increase your storage space. You may be able to use an available area by expanding closet rod height dimensions, clearing out unnecessary clothing, and installing a closet organizer system. In other cases, your closet designer may recommend knocking out a wall to expand a space.
A customized closet system adapts to your space, allowing you to store your items elegantly and efficiently. While you can purchase some systems at the store, a customized system has the benefit of truly functioning uniquely to your space. Your home will have a sense of much more space. Store your items in a practical attractive way that is perfect for your unique lifestyle.
Store Clutter Elegantly
We all have clutter. Maybe you have boxes of old photo albums, yearbooks, shoes, or broken jewelry. Maybe you have a box of stuff that belongs to your kids who moved away long ago. Or maybe you just have an incredible collection of accessories, boots, or ties. Whatever the clutter in your life, store it elegantly to make your home feel cleaner and more enjoyable. Clutter causes stress in your life. Real stress.
Some ideas:
Customized closet systems for accessories and shoes for your walk-in closet
Elegant baskets and storage containers for smaller keepsake items
Store items in a functional way like most used items at arm's reach and rarely used items high up
Give away or toss a quarter of your keepsakes (you know you can do it!)
Customized drawers
Talk with your design professional about how you can store your cherished items in an attractive way in your walk-in closet
Customized Lighting
We can provide beautiful lighting for your customized walk-in closet. Make a home spacious and elegant. Talk with our professionals today about our array of exciting lighting options.
Call our trained team at Superior Closets today. We are happy to answer any of your questions. Schedule a consultation. Contact us now.