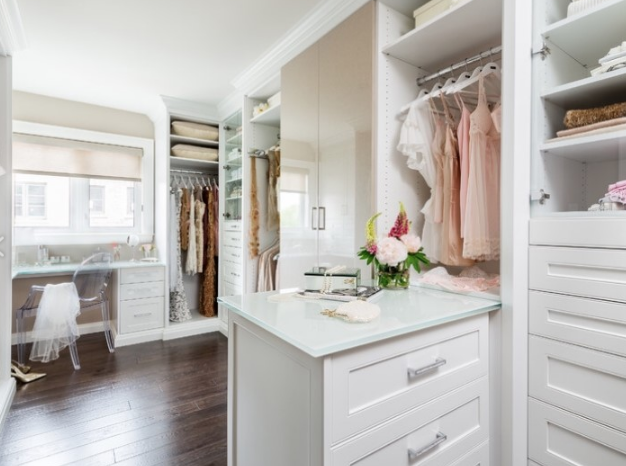 Find contemporary closet design that both have functionality and aesthetic beauty. A luxury closet with shelves, unique mirrored door design, custom lighting, and more can transform a blasé storage area into a beautiful space of relaxation and solace. Need inspiration? Check out these incredible ideas for the modern home of the 21st century.
Simplicity and Minimalism
Embrace simplicity. Your closet does not need to be cluttered with baskets full of yesterday's memories and today's smelly socks. Instead speak with our talented designers about creating a luxury custom walk-in closet with shelves. Enjoy minimal mess. Even if you have a smaller closet space, we can help you redesign your space with custom shelving, warm lighting, and hidden storage spaces to truly utilize each space with elegance.
Unique Door Options
Tired of the same boring closet? Embrace a new flux of exciting design ideas for your home. There are many interesting and unique ways to add a bit of fashion and beauty to your closet doors:
Hanging Sliding Doors
Minimalist Sliding Doors
Wooden frames
Japanese Sliding Doors
Natural Accents
Glass Sliding Doors
Curtains
Blurred Glass Doors
Wooden Sliding
Bamboo Accents
Barndoor Sliding Doors
Natural Wood Door Accents
Geometric Design
Folding Doors
Sliding doors have made a big splash in contemporary home design. The simple design allows for more space. The doors slide instead of opening out. This gives more space for small spaces. Additionally the sliding doors can be made of numerous materials : Wood, Glass, Bamboo, and more. Choose your own unique style for your homes. Sliding doors give more space to smaller apartments and urban bedrooms, making them the economical and exciting style for 2020.
Materials
Move past simple wooden closets. Today you can embrace a number of exciting materials, finishes, and accents. Add a touch of Japanese flavor to your bedroom with Japanese sliding doors. Add modern design with curved organic accents in white. Expand light and space in your room with carefully customized mirrored accents.
Contact Superior Closets today to create the gorgeous luxury closet for your home. We specialize in closet organizers, walk-in closets, wall units, wall beds, and work spaces. No matter your budget, we are ready to help you. Contact us today.