Closet Organizers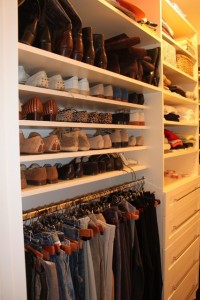 The hanging rack and shelf of a standard closet don't really give you many options when it comes to organization. You hang some clothes, maybe fold others and stack them on the shelf, and then pretty much dump everything else onto the floor. After a while it can become one of those "Don't touch anything! I know exactly where everything is!" type of situations. And who needs that?
The Many Advantage of Closet Organizers
Closet organizers will bring order to the chaos of your closet, no matter how large or small. You can get your shoes off the floor, separate them into "his" and "hers" and organize them by style, function, colour or however else you want. You can finally separate t-shirts from miscellaneous old linens and properly arrange your towels. Closet organizers also allow you to:
Save Time – Next time you're a little behind getting to work you won't have to just grab the first thing you see and hurry out the door. You'll be able to make smart, stylish decisions so you can always look your best.
Free Up Space – It's amazing how much space can be freed up by simply finding a place for everything and putting everything in its place. Your closet will not only be easy to navigate but will be able to handle a larger volume of everything.
Save Money – You don't really know what you have unless you can see it. Many is the person who, in the course of organizing their closet, discovered things they'd long forgotten. Not only that, but often those discoveries saved them from wasting money on duplicate items.
The benefits of a well organized closet then are many and varied. From helping you look and feel better to saving time, money and space. Next time you're sifting through a stack of things on the floor of your closet looking for that special sweater, think about how much easier your life would be if you had everything arranged and at your fingertips.
Superior Closets has been creating beautiful, functional closet storage solutions for homeowners in the GTA for more than two decades. In that time we've earned the trust of our clients and a reputation for innovation storage concepts, top-quality craftsmanship and superior customer service. We stand firmly behind everything we do and fully guarantee all our work. Call us today on 905-669-8280 to learn more about closet organizers and to talk with one of our friendly and knowledgeable staff.