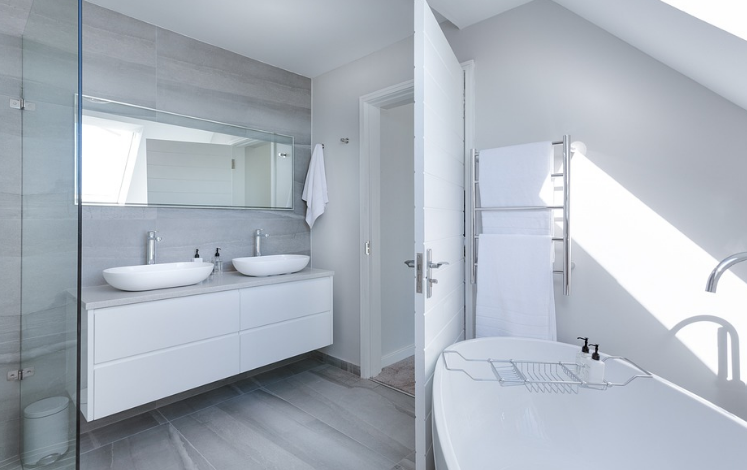 What are some of the hottest trends for bathrooms in 2019? To natural colors and materials for closet doors to wall-mounted toilets, this year's latest remodel trends will stretch your imagination. Try to find the styles, ideas, and trends that fit your particular décor and personality. Let's dive in!
Floating Vanities and Mirrors
Want to rethink your bathroom space? Try to remodeling your vanity. Mirrors have made a big comeback, whether as floating vanities or as full-length mirrors on your closet doors. Rectangular rounded mirrors are a sleek design choice for 2019. The minimalist and mid-20th-century modernism looks have a monochromatic look that maximizes the space in your bathroom.
Marble and Minimalism
Think of simplicity in color – black, white, and gray. Top with glass doors and rectangular shapes. Large tiles are both easier to clean and an affordable luxurious option. Incorporate sleek vanity design and cabinets. Add custom lighting to brighten up dark spaces. Choose metallic materials like polished nickel or marble for walls, closets, and accents.
Hidden Storage
Walk-in closets, high-end closet systems, and hidden storage options are popular today. Hide the clutter and enjoy spacious luxury. Contact us today about our incredible customized closet options. Add natural wood doors for a bit of Zen-inspired nature.
Reimagining Showers
Homeowners are moving rapidly away from traditional showers and bathtubs. Instead, they choose layouts that have seamless, dam-less shower spaces. Easy to clean and attractive, these spaces incorporate wall space and fixtures into the design. Ideal for the modern or minimal look, these seamless showers fit beautifully into any home. Even if you don't want the entirely seamless shower, you can still add aesthetic beauty to your bathroom space with a floor-to-ceiling shower glass enclosure.
High Tech
For homeowners who enjoy a smart house, designing a smart bathroom is a natural choice. Go high tech with your bathroom upgrades. For example, incorporate a wall-mounted smart toilet into your home. Enjoy music while you bathe with a built-in Bluetooth sound system. Add automatic sinks in your home or sync your shower, deodorizers, and air dryers with an app. Enjoy the convenience of a smart home.
These exciting new modeling ideas will add convenience and beauty to your home.