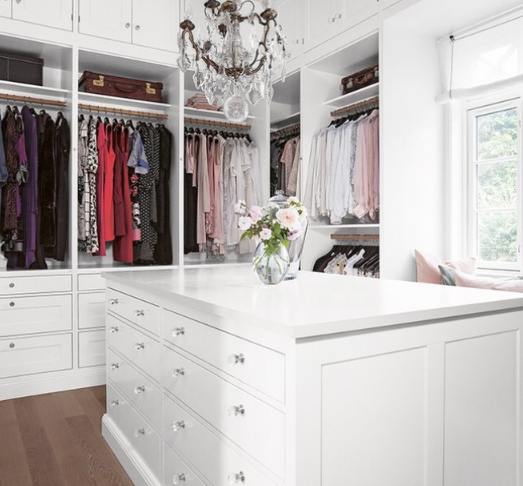 Don't fret about storage space in your master bedroom. Whether your walk-in closet dimensions are impressive or you have a tiny urban space for your entire wardrobe, there is an incredible storage space solution for you!
Customized Storage for Your Shoes!
Don't spend hours rifling through your closet to find those black pumps for tonight's evening party. Instead, look at customizing your closet space to fit your wardrobe, shoes, and accessories. If you have larger walk-in closet dimensions, you can contact our professionals to help you maximize your space. We can design beautiful shelving units that will keep your shoes organized and off the ground, as well as help you organize your wardrobe.
DIY Fabric Bins
Fabric bins are a favorite storage solution for parents. Cute and adorable, they quickly hide away mountains of toys, dolls, and LEGOs in an instant. You can also store shoes, accessories, socks, and t-shirts in them. They can get costly, but you can you're your own.
Plastic storage bins can be bought at most dollar stores. You can also reuse cardboard boxes. Cover them with fabric using a glue gun. You can use anything for fabric: old sheets, t-shirts, tablecloths, napkins. Measure out each side. Decorate with ribbon or sequins for extra fun.
Storage Systems
Take advantage of customized storage systems. These systems work together to maximize space with a mix of hooks, shelving, and rods that work together as a unit. These are an excellent solution for smaller closet spaces or if you have a large wardrobe.
Color Coordinate Clothing
Need to separate him/hers or just business from casual? An easy solution is to color code the hangers. For example, save dark blue hangers for work clothes and blazers, red for eveningwear, and yellow for everyday casual. Color code and sort the clothes accordingly in your closet. Now instead of fishing for that super cute casual top you want to wear to your family's annual grill-out, you can find it in an instant.
Mirrors and Lighting
Add a little bit of utility and openness to your storage space with mirrors and custom lighting. You can take a dark closet space and transform it into a useful area for every day. Mirrors serve two functions: They can be used while dressing and also open up space. Light bounces off the mirrors, making space seem much lighter and more luxurious.
Call us today about our creative professional design services. We can help you transform your closet space.