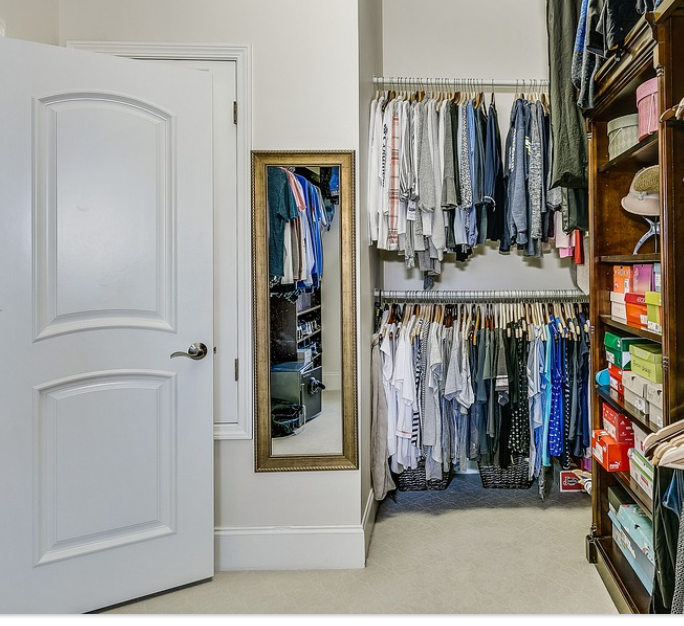 Is your cluttered closet stressing you out? Uncluttering your bedroom closet can make life seem a little easier. You need to find what you need quickly. Don't waste any more time trying to find what you need for work in mounds of junk and clutter. We will share our top closet organization tips and tricks to help you find your tidy heaven.
Before You Start
Before we delve into our best bedroom closet tips, take the time to pull out all the junk and trash that you have stored in your closet. If you are familiar with the Maria Kondo approach to cleaning and organizing, the best thing you can do to declutter is to toss out what you don't need. Yes, that might seem a little obvious, but really, when was the last time you wore that dress that's gathered dust in your bedroom closet?
Throw away any unnecessary trash. Set aside a bin for donations for the local homeless shelter or thrift shop. Donate used books to the local library. Share any working toys with friends with younger children. Once you have purged all the unnecessary items, jump to the next list of tips.
20 Top Tips for Organizing
Now you are ready to organize your bedroom. Trust me, you will feel much better once your closet is clean. Here you go. Our top twenty tips!
Invest in space savers like slim hangers, bins, baskets, and shelf dividers
Move everything you need to easily access to the very front of your closet
Leave top shelves for items you don't use daily
Keep all shoes together in pairs
Hang hooks on doors to increase hanging space for your clothing
Group together shorter clothing to create a space on the floor underneath
Invest in one of Superior Closets custom organization systems
Purchase hangers that hold multiple pants
Invest in a closet rod extender
Renovate an existing closet or space to create a walk-in closet
Use drawer organizers for smaller items like jewelry, socks, and underwear
Place hook racks in convenient locations like on wall or over the door
Buy a shoe rack to organize boots, shoes, and sandals
Combine a custom closet system with a modular closet system
Use under-bed bins for seasonal sweaters, blankets, and scarves
Use blanket bags for comforters, sheets, and blankets
Invest in a compression bag system
Each month fill up two boxes of unused items to donate to charity
Every season donate any clothing that you haven't worn in a year
Store small toys and knick-knacks in colour-coded baskets
Once you have finished these easy organizing tips, getting ready for work won't be a hassle anymore. Enjoy tackling the clutter.
Call Superior Closets for the Best Closet Organizers
If you want the best closet organizer or need to transform your closet space, call our team at Superior Closets. We offer a wide selection of organizer systems. We also help homeowners create beautiful walk-in closets and new closet spaces. We pride ourselves on high-quality and excellent customer service. Contact us today.