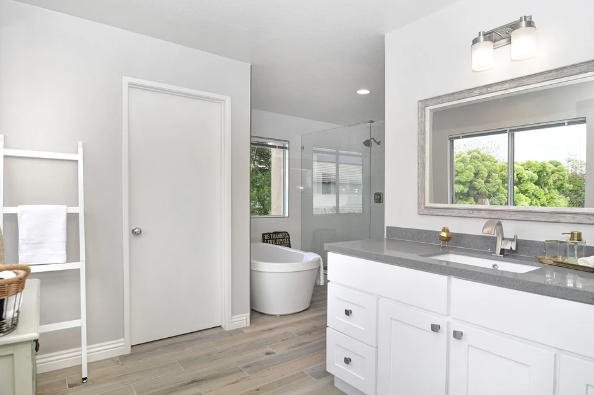 You deserve a luxurious master bathroom. Looking for some gorgeous ideas for your next remodel? Want to enjoy a spacious walk-through closet to your bathroom, beautiful lighting, and a dreamy master bathroom? Check out these incredible trendy master bathroom ideas trending in 2020.
Contemporary Elegance in White
Don't settle for one single style in your master bathroom. Try combining a modern and contemporary. How? Try a luxurious sleek standalone tub mixed with neutral tone marble and a delicately lit with custom lighting. Consider a mirrored walk-through closet to your bathroom and classic chandelier. Stick to light gray and white for clean, sleek look.
Natural Wood Look
Create a beautiful storage space in your master bathroom with custom closets in natural wood. Combine wood flooring and cabinets with a glass walled shower and walk-in closet. Design custom storage in light wood, awash in gentle luxury lighting.
The Classic Tuscan Master Bath
Enjoy the Mediterranean? With gorgeous antique carpets, wooden fixtures, and a spacious wooden closet, combine the best of Old World charm. Combine exposed beams, a walk-in shower, dark wood accents, and granite double sink, for a truly European elegance.
The Home Spa
Want to create the ultimate lap of luxury, a home oasis to relax in at the end of a hard day? Opt for gorgeous sea green and turquoise. Choose a glass shower, beautiful wood cabinets and closet, and subtle tile floor. Add darker wood touches, natural light, and spa accessories like delicious candles and specialty soaps. Enjoy true luxury in your own home.
Minimalist
Perhaps you have a smaller urban dwelling and embrace minimal living. You can still enjoy a master bathroom and maintain simplicity. Create a master bathroom in a smaller nook like the attic. Keep colors minimal, shiny, and white. Include a state-of-the art bidet and walk-in-closet that doubles as a dressing space.
At Superior Closets our experienced design team will help create the perfect walk-in closet design for your master bathroom. We have custom closet systems for every budget. Need creative storage solutions for your home? Call us today.