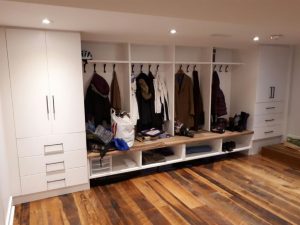 Every year there seems to be a new furniture trend, and this year it's definitely closet organizers in Toronto. Not only do they look good, they're practical too, making them a much-desired product. With more and more people looking to finally organize their closets, here's a look at how buying one can actually save you money in the long run.
How Closet Organizers in Toronto can Save You Money
1. They're Customizable
The beauty of closet organizers really lays in their customizability. From overhead storage options to draws and rails, closet organizers seek to utilize all possibilities in order to give you exactly what you want to suit your storage needs. By taking the time to assess your needs accurately, you can cater for them in one fell swoop, reducing the risk of going out to buy more storage options in the future.
Having everything under one roof in one unit is much cheaper that having to go out and individually buy, for example, a set of drawers, another cupboard and a clothes rail. They're made to last too, so you don't have to worry about buying another one if it falls down – like your flat pack DIY choices inevitably will.
2. You Won't Lose Anything
The beauty of a closet organizer is that you can design it with your needs in mind, meaning you'll know exactly where you're putting everything. This means it will be harder to lose something; no more rushing about trying to think where you put your gym shoes – you'll know exactly where they are because they have their own section.
Not many things are worse than thinking you've lost something only for it to turn up once you come home with its replacement, and with a closet organizer, you can say goodbye to the chances of that happening again.
3. Increased Productivity
The Chinese concept of feng shui relates a clean, tidy environment to how you feel. By having everything so neat and organized, you'll start the day on a brighter note for not having to rush around and throw together an outfit. This calm feeling and lack of stress can help you to be more productive, whether it's at work or in the home, and shouldn't be sniffed at.
4. Your Home's Value Will Rise
Because of how trendy closet organizers in Toronto are, by having one you can expect your home's value to rise. A sought after feature like this will not only increase the value, it will attract more bids too, meaning that they will more than pay for themselves should you ever wish to sell your home. Not bad for something you bought to try and keep yourself sane in the mornings!
Closet Organizers in Toronto – A Product for Both Now and the Future
There's no denying that closet organizers are a wonderful product to have in the home – space saving, mood raising and easy to use. But their true value lays in the fact that they can save you money in the future – which makes them almost priceless.