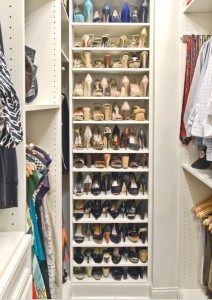 As we grow and get older, it's only natural that we accumulate more things, and almost every household has that drawer to put things in – but it doesn't have to be that way. With a seemingly endless list of different storage solution available today, here is our lowdown on which types are the best for your needs.
Storage Solutions in Toronto – What Works and Why?
1. Open Storage (shelves, bookcases, glass-door cabinets etc)
• Open storage units are great if you want an attractive way to display your possessions that either look good or you want to be easy to reach. By having aesthetically pleasing items like books and jewellery on display, it provides a quirky, cool vibe and will work as a great conversational starter. It also provides the opportunity to rotate what you're showing off – great if you're the type of person who gets bored of their décor quite quickly. Easily one of the most fashion-conscious storage solutions in Toronto.
• However, this type of storage is only fine if you can make it work and depends on what you're putting in plain sight – books and trinkets look good yes, but power tools? Not so much.
2. Hidden Storage
• A growing storage solution in Toronto, hidden storage looks to take advantage of any spare space you have. Particularly effective in rooms such as the kitchen where appliances can take up a lot of shelf space and make the place look cluttered, hidden storage is a great way to work with what you've already got and turn potential wasted space into futuristic storage compartments. Examples include folding-out storage, pull out racks and even spaces for chairs and tables to seamlessly slide inside.
• This kind of storage will require a lot of thought and perhaps the help of an expert to plan. It's expensive, too – but worth it.
3. Overhead Storage
• Overhead storage is great because it utilizes space that otherwise will be wasted. By installing units such as cupboards on top of existing storage solutions, you can take advantage of that previously unoccupied space and find a home for those large items that have been taking up space elsewhere.
• Yet overhead storage isn't for everyone – especially those who can't reach it! For some people it simply isn't practical, and dangerous if you're reaching or climbing to get to it, so keep that in mind.
4. Furniture Storage
• If you're looking to blend style with storage, then furniture with storage built in is a great choice. From buffets and ottomans to divan beds, there's a wide range of products that come with ample storage space.
• Keep in mind that the prices can be high, especially if you're going custom made.
There's No Shortage of Storage Solutions in Toronto
Whether it's hidden or in plain sight, stylish or practical, there's definitely something out there for everyone when it comes to storage options. Don't be afraid to look around and experiment – quite often, the best storage solutions are ones that utilize a mixture of different styles.