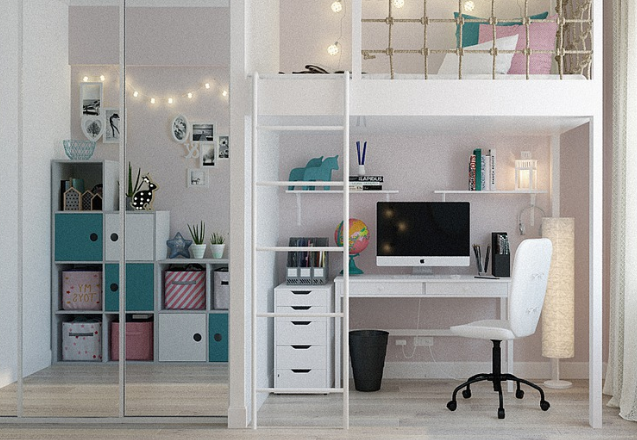 Does your home clutter depress you? It's time to stop your clutter from controlling your life. Embrace these innovative storage ideas and get back your life. Organizing closets and cabinets doesn't need to be difficult. Let's take your organization to the next level with these professional tips.
1 Custom Display Shelves and Cabinets
Don't worry about your shoes, books, and electronics piling up ever again. Work with a custom design team to build a gorgeous display cabinet for your media or a hidden storage nook for your sneaker collection. Work with a talented designer to find out how you can truly maximize your space. It's more than organizing closets – it's making the most out of all of your space.
2 Innovative Secret Storage
Stop stuffing junk in plastic bins all over your home. Instead take advantage of secret storage. From storage ottomans to contemporary beds with hidden storage drawers, buy multipurpose furniture that is both comfortable and practical.
3 The Hidden Credenza
Do you have a spot underneath your living room stairs? Install a small custom cabinet or bookshelf to take advantage of this triangular nook. This is a great place to store overflow items like extra jackets or even the kids' bookbags.
4 Luxury Wine Storage Racks
The great thing about wine storage racks is that they are both functional and attractive. Showcase your wine collection in handy storage space. Floating wine shelves have a unique luxurious touch that will accent your dining room.
5 The Walk-In Closet
Your master bedroom can benefit from a custom-made walk-in closet. Organize your clothing, jewelry, shoes, and more in a spacious area. Your walk-in closet can double as a dressing area or even a small home office.
6 Go Vertical
Look around your home. How much blank vertical space do you have? Building custom shelving or bookshelves utilizes every bit of space without all the extra clutter. Try floating shelves for knick-knacks and books or a floor-to-ceiling entertainment unit for storing media and electronics.
7 The 20×20 Rule of Decluttering
Finally, if you find that you have way too much clutter to store, consider applying the 20×20 rule. If an item costs less than twenty dollars or you can replace it in less than twenty minutes, toss the item. While this rule doesn't apply to every item, for example, sentimental items, you can easily rid yourself of lots of unnecessary items like old shoes or dusty magazines.
When you want the best storage solutions, contact Superior Closets. We offer exciting storage designs, perfect for every homeowner. Whether your budget is big or small, the Superior Closets team guarantees that we will work with you to find the right storage system for you. We offer a variety of services and products, including building walk-in closets, designing custom storage units, and installing cabinetry and shelving. Contact Superior Closets today.