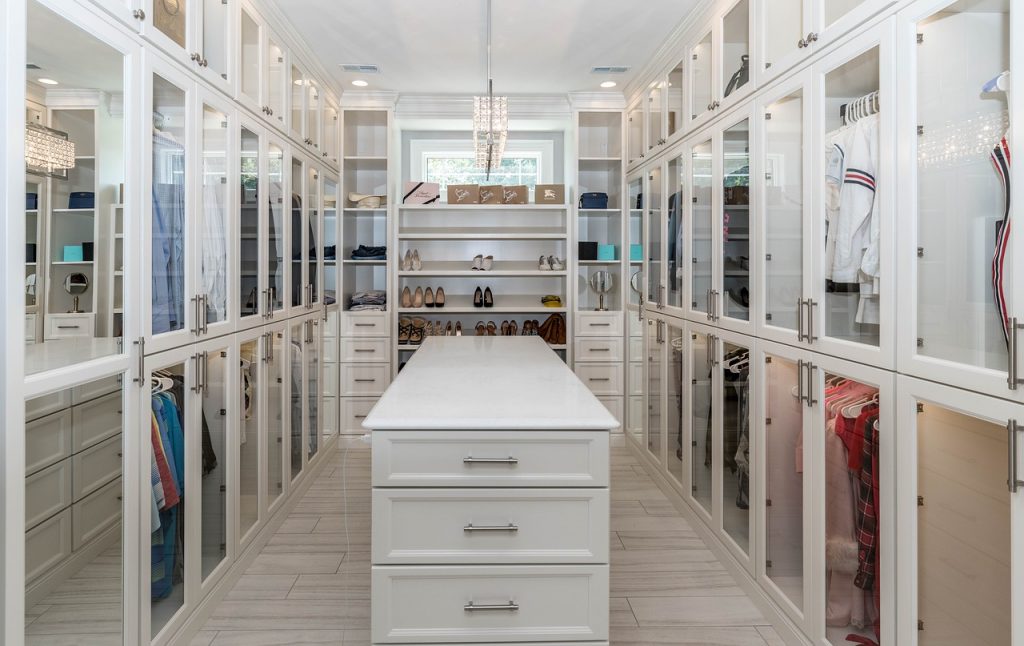 Walk-in closets are great if you have an overwhelming wardrobe or a need for excessive storage. Large closets might have the room, but they lack the convenience so you can get to things. So instead, you need a wardrobe meant to hold people and stuff.
But if you want to put in a custom walk-in closet, dimensions are essential. What is a good size for a walk-in closet?
The best size for a walk-in closet should be a width of six feet, with about two of those feet being for a walkway. The depth of this closet should feasibly be about ten feet back. If you are a single person with less stuff, these closets can be as small as 4×4.
The remainder of this article will go through why you see size variations in these closets. We will also go through various design features worth talking about to enhance your space.
What Causes Size to Fluctuate in Walk-In Closets?
The size of a walk-in closet varies heavily depending on what you want to put in there. Many times, they are used to accentuate the features of your wardrobe.
Depending on what you are using for, here are some features to look for:
Dressing Space
Think about dressing rooms at your local department store. The average dressing room is somewhere around 4×3 feet, enough room for most adults.
The back of the dressing room needs to account for a floor-length mirror, which doesn't take up any space. However, a good custom walk-in closet should account for your height.
The dressing space can be an extra concern if your walk-in closet is big enough to fit a display island. Islands are unique and striking for most walk-in closets. Get them if you want a display place for your favorite clothes.
Hanging Space
The hanging space is the most significant portion of your walk-in closet. The available space should give you a comfortable amount of room to place your most extended clothing. If you consider your height, that should be about what you need.
Some people separate their hanging space by clothing type. The top room is for shirts, the bottom area is for pants, and you might have an even higher space for hats. Always account for the few inches of your clothes hangers when accounting for this space. If you can, make sure that you can see the hat space.
However, next involves shoe storage
Shelves for Shoes
The shoe shelf should be near ground level. Depending on your willingness to bend down, it can be slightly higher. Typically, these shelves should be no more than 1 ft from the wall. If you have bigger feet, account for how much space you need to fit the entire shoe.
Give a little bit of extra room in almost all shelving situations. You never know when you will buy a shoe, hat, or shirt with a bit more girth to it.
Final Thoughts
A Walk-in Closet is an excellent addition to your household. Whether you want to admire your mostly hidden collection of nerd memorabilia or you have a considerable amount of clothes, there's a couple of reasons for you to get them.
Check out Superior Closets for the best available options for custom walk-in needs. Our team of specialists will help your vision become a reality.