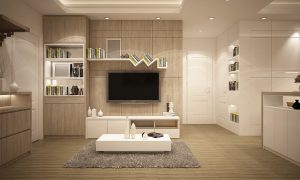 Looking for a way to expand the space in your home in a stylish way? A beautiful large entertainment center can provide you with considerable space-saving benefits while providing you with a focal point for your living space. Whether the unit fills an entire wall or is just a treasured nook, enjoy these five key benefits.
Organization
Whether you have a spacious home or a charming urban apartment, a large entertainment center will provide you with an attractive option for practical storage. Expansive shelving will provide a welcome place for your television, picture frames, Knick knacks, DVDs, and more. Media devices like speakers, video game consoles, your smart home devices, or Blue-Ray player are easily stored in an attractive fashion. Collectors will enjoy the many creative ways that they can showcase their items.
Minimize Clutter and Cords
While open shelving options can showcase your prized photos, collectibles, and DVDs, closed shelving options allow you to hide unwanted items. Carefully tuck away cords and clutter. Hide miscellaneous items. For families, the option to store away electronics from young children can provide additional child-safety value. For homeowners that manage a business, the ability to hide away your laptop in a locked shelf provides extra security.
Design Options
There are a variety of unique style options to suit your individual tastes. Finishes like ivory or dark wood can provide a unique touch to your living space. Discuss different shelving options. Speak with an interior design professional about open and closed shelving, or the value of adding custom lighting. Other practical options like mounting the unit on wheels can add extra functionality to your residence. Find the design that perfectly fits your needs.
Custom Design
Your entertainment center can become a welcome focal point for your home. Family and friends can gather around to enjoy a favorite film, chat about current events, or play video games. Speak with an experienced interior designer about designing a custom center that perfectly meets your home's needs. They can provide you with excellent options that match your taste and practical needs. Choose which finishes matching your décor, or what shelving and lighting options provide the most functionality and style.
Make Long-lasting Memories
Enjoy years of memory-making in one central location in your home. Not only will the entertainment center declutter your home, it will provide a one-stop option for entertainment and enjoyment in your home. Your children can enjoy countless hours together. Display family photos. Streamline electronics and chords. There are countless benefits. Call your interior design professional and find out how you can enjoy the space-saving benefits of an entertainment center.