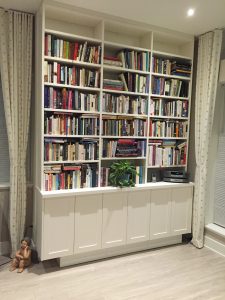 The contemporary wall unit is just what the architectural doctor ordered at a time when most people have more 'stuff' than ever before. Some of that stuff will do just fine being stored in a box in the attic but some of it is a part of your daily life and/or it embodies your tastes and beliefs as well as signifying connections to those who matter. Wall units in Toronto can be custom made to fit any decor, room size or function. But as versatile and important as they are they're not always appropriate in every room. Below we're going to look at which type of room a wall unit will work best in.
Let's Talk Wall Units in Toronto Homes
Wall units in Toronto homes first gained widespread acceptance during the 50s and 60s. Since then their popularity has waxed and waned but in recent years they've returned to favour in the eyes of many homeowners desperate to find ways to organize their things. Wall units tend to work best in the following rooms:
● The Living Room – This is no surprise since just about everyone knows at least one person who has a wall unit in their living room. The contemporary wall unit is a great way to both reduce clutter from DVDs, video game cartridges, consoles and magazines while at the same time featuring family heirlooms and art objects. They also play host to the flat screen TV which can be hidden discreetly behind sliding or folding doors if you wish.
● The Bedroom – Wall units in the bedroom are a smart way to organize shirts, socks and undergarments. A bedroom wall unit also makes a great place to store linens, bath towels and the like. And you can use it to store shoes if you've run out of space in the closet. Like the living room wall unit the bedroom unit can also host the TV.
● The Finished Basement – Finished basements are often used as recreation rooms where family and friends go to watch sporting events, play pool and even play old fashioned games from time to time. As such these room tend to be clutter magnets and a wall unit is a great way to stay ahead of the onslaught of game cartridges, VR headsets, old school board games and more.
"But what about the kitchen?" you ask. Well here's the thing. The kitchen already has its own form of wall units; they're called kitchen cabinets. Which means the kitchen has been out in front on this type of decor element for centuries. It's really the other rooms of the house that are catching up to the practical advantage having wall-based storage.
Wall units in Toronto are an excellent way to obtain the extra storage you need for just about anything. They also provide any room they're in with a focal point. Give Superior Closets a call on 905-669-8280 to find out how one of our wall units can help bring the disparate elements of your domestic life back into harmony.