Window Coverings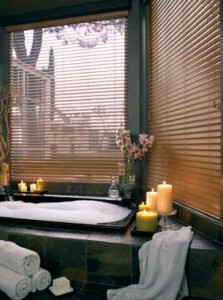 Windows play a crucial role in how we interact with the world around us. They bring the outdoors in and display the indoors out. They allow warmth to penetrate during the cold winter months, along with sunshine to brighten our interiors and nourish our houseplants. On the other hand, they also let in the heat during the summer and display maybe a little bit too much of the indoors out at times, so something needs to be done to regulate what comes in and what goes out. That's where window coverings come in.
Keeping Things in Balance With Window Coverings From Superior Closets
The job of the window covering is to help you properly manage the many tasks your windows regularly perform, while at the same time beautifying your home and saving you money. Before selecting the right coverings for your windows, you need to ask a couple of questions.
Do you want your shades to filter the light or black it out completely? – A filtering blind will allow some light to penetrate during the day and allow a certain amount of visibility from the outdoors at night. Blackout shades will stop all light from penetrating during the day and allow you to retain your privacy at night.
Do you want to be able to control the slats in your blinds? – Some blinds will allow you to tilt them at different angles to let varying amounts of light in (think classic Venetian blinds). Others will not, which means the only time you'll have a clear view out the window is when the blinds are completely raised.
Once you've decided which type of coverage you want, then it's just a matter of determining which style will work best for your home. At Superior Closets we have a full range of beautiful Hunter Douglas styles for you to choose from including: Silhouette, Pirouette, Luminette, Everwood, Duette, Applause, Brilliance and many more…
Superior Closets' full line of Hunter Douglas window coverings will enhance the look of your home, make it more comfortable at all times of the year, allow you to retain exactly the amount of privacy you desire at any time, protect your valuables from damaging UV rays and save you money by aiding in your ability to control heat levels. Call us today on 905-669-8280 to find out more about what beautiful, energy efficient window coverings from Superior Closets can do for you.