Storage Solutions Toronto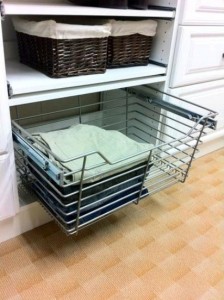 Storage Solutions Toronto: If there is one abiding characteristic of the contemporary world it's that people have more stuff now than ever before. While that fact reflects positively
on the state of most people's lives it does present certain spatial challenges many homeowners have a hard time transcending. As a result storage
facilities have sprung up in and around every city and town in North America. But not everything is a good candidate for the storage facility. There are
plenty of things that take up space in your home that you use on a regular basis. What you need then is a way to introduce order to the chaos and storage solutions from Superior Closets are the way to go.
Storage Solutions Toronto That Work for You
The logistical pros at Superior Closets are experts at creating solutions that dovetail with the different lifestyles of our individual clients. Typical storage solutions Toronto homeowners may include:
✔ Walk-in closets: There's nothing like the feeling that comes with stepping into a beautifully organized walk-in closet. No more sifting
through piles of clothes on the floor for that cardigan that disappeared several months ago. No more wondering what happened to your little black dress.
There's a place for everything and everything is in its logical place.
✔ Building out underutilized spaces: A common theme running through many of the projects we tackle is that of underutilized space. The
most obvious of these neglected areas is that under the stairs. This type of space can be used to install a closet, drawers, even a desk for working at
home. If you have a finished attic with an A-frame ceiling a drop ceiling can be installed and the new space used for storing things medium and long-term.
✔ Murphy beds: The Murphy bed has come a long way in recent years and now includes any type of bed that can be folded or lifted out of the
way to make room for daytime activities. That's right we said lifted, because many homeowners working with limited square footage have discovered the joys
of creating a retractable platform for their bed. Raising the bed is like having an extra room you can call on whenever you need it.
✔ Custom entertainment centres: Living rooms often become overwhelmed by game consoles, DVDs, books, magazines, headphones and more. So
much so that it's often difficult to find room on the coffee table to place your drink. We can create a beautiful custom fit entertainment centre for your
home that will give the accoutrement of modern life a place to go when not in use so that you can reclaim your living room.
If you're feeling overwhelmed by stuff and would like to bring some order to the chaos, Superior Closets can help. We develop storage solutions Toronto homeowners that make the most of available space, find space that's been underutilized and create new space by
rethinking how a room goes together. Call us today on 905-669-8280 and find out more about affordable, effective storage solutions Toronto from
Superior Closets.
Luxury and function are two words that aren't often used in the same sentence. In fact, most people will tell you that something functional cannot have an element of luxury to it and that luxury by definition has little if anything to do with functionality. We would politely suggest that anyone who believes that has never experienced our walk in closets or seen our custom designed wall mounted storage solutions Toronto. The fact is that when it comes to organizing the spaces in your life you can indeed have your cake and eat it too; and we can show you how.
We're Superior Closets and we've been a part of the Toronto community for more than 20 years providing custom designed storage solutions to cover the entire spectrum of your organizational needs, including:
Walk-in and reach-in closets
Custom designed entertainment units
Retractable wall beds
Kitchen and bathroom cabinetry
Work stations and work spaces
Where you see chaos, we see possibilities. Where you see disorder, we sense potential. Where you need space we find it, mold it and turn it into something you want to show off to your friends. After all, a closet is more than just a place to hang your clothes, it's a statement about who you are: a place you enter, reflect on yourself and consider possibilities.
Superior Closets understands this. We also understand that an environment that is both effectively organized and aesthetically pleasing can have the effect of:
Reducing stress
Saving time
Enhancing the value of your home
Improving your overall outlook
Developing Storage Solutions That Work for You
Even if you have already developed solid ideas about how you want to repurpose the space in your home or office you will probably still need professional advice and guidance regarding how best to proceed so that the final result says "storage solution" and not merely "storage space". That's where our design specialists come in. They sit down with you and get to know you: your likes and dislikes, your tastes, your needs and the potential of your space to accommodate these things. They listen to your ideas, present options, encourage feedback and continue to rework and refine the concept until you look at it and say "That's me!"
From start to finish our goal is your satisfaction. Our guiding design principles are sophistication, order, purpose and ease of use. Our hope is that you find that by working with us your life is enhanced, simplified, better organized and better able to both recognize and appreciate the finer things.
In a world where the virtual office means you are, in effect, always at work the function of your home as refuge is more important than ever. It is crucial that your personal spaces nurture and sustain you, that they help make your life as carefree and comfortable as possible, while at the same time empowering you to succeed in your chosen field. Superior Closets is here to help you achieve your goals by creating storage solutions that will simplify and enrich your experience by adding new levels of functionality and yes, even a bit of luxury.