Mirror and Panel Door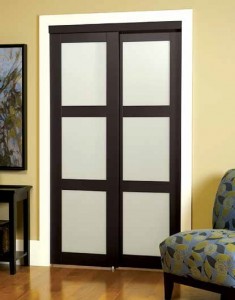 Mirror and panel doors have become an increasingly popular solution to a plethora of interior design challenges, and for good reason. Not only do they ratchet up the overall appeal of a space, they are particularly effective at helping turn what would otherwise seem a dark and cramped area into one that can be flooded with light and ready to serve a multitude of purposes.
The Mirror and Panel Door Answers the Call of the Spatially Challenged
The mirror and panel door is not a new idea but it has found a home (so to speak) in today's world where spatial concerns are at the forefront of much interior design. They answer the call in a variety of ways including.
Making the Most of Limited Space – As mentioned, the mirror and panel door really shines when it comes to saving and even creating space. They can disappear directly into an adjoining wall, free up the area previously reserved for opening swinging doors and, when adorned with mirrored panels, make the tiniest of spaces seem many times its actual size.
They Look Great – Nothing brings the feel of your home into the 21st century like mirrored panel doors. They ooze contemporary sophistication like few other interior design elements. They can highlight various aspects of a room, be combined with other elements to create a sleek, clean overall effect or be given a French door look to imbue a space with a sense of traditional luxury.
They're Safe – With traditional doors you need to be constantly aware of who is where before you open or close the door, especially if you have kids. Not so with sliding panel doors. Panel doors slide in front or behind one another, disappear quietly into a section of wall or in the case of accordion style doors, fold back neatly like a Japanese screen.
Whether you want to give your restored farmhouse a slightly contemporary edge, want to turn a walk-in closet into a world-class dressing room or just save space in your townhouse and do so with style and flair, the mirror and panel door is the answer to your needs. Beautiful, functional, appealing and safe, they're a staple of contemporary interior design for all the reasons listed above and more.
If you're redesigning your home, give Superior Closets a call on 905-669-8280 and talk to one of our world-class designers about the many benefits of sliding or accordion style panel doors.